Furniture 3D models are necessary resources for interior and architectural visualization. Designers use them to create concepts for furniture layouts and to visualize furniture in room settings.
There are many resources available to 3D furniture modelers. Some furniture design software packages also come with 3D furniture models built in, so there's no need to spend extra money on this kind of resource.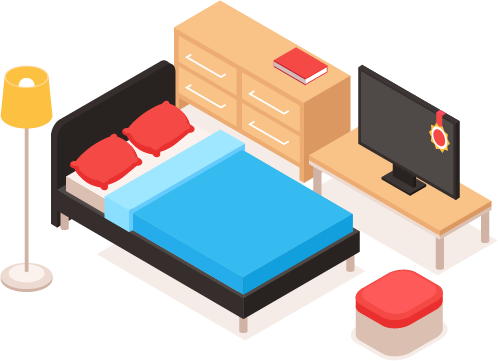 3D furniture models can also be obtained through traditional means, such as contacting manufacturers directly. Many furniture companies offer 3D models for download as part of their products, and some provide free releases.
You'll want to check out these five resources if you are looking for furniture models specifically designed for interior and architectural visualization.
Design Connected
Design Connected is the perfect destination for aspiring and experienced interior designers, artists, and architects. With its vast library of 3D furniture models and accompanying Online Interior Design Assets, Design Connected is the ultimate resource for designing any room in your home.
They offer 3D models for interior and exterior design professionals, artists, and architects, so you can easily create high-quality scenes and renderings. With Design Connected, you can find a suitable 3D object to represent your project, no matter how complex or simple.
The models are available in various file formats, including MAX, C4D, OBJ, and FBX. Additionally, the website offers a range of asset packages and furniture textures.
The Design Connected team is passionate about creating quality furniture 3D models and asset packs. They are dedicated to providing 3D objects to help interior designers and architects create unique 3D scene designs.
Dimensiva
Dimensiva, a site with 3D furniture models, is an excellent resource for creating an interior design or virtual staging project. Whether you're a beginner or an experienced designer, their models will help you create a stunning space.
Dimensiva offers free and paid models. The free models are perfect for you if you're looking to try out a model before investing money into it. However, if you want to purchase a model outright, the paid models offer additional benefits, such as incredible textures and more polygons. As any professional 3D artist knows, quality is essential for creating a realistic and convincing finished product.
Dimensiva is a nice reference source for designers, architects, and homeowners who want to create a stylish and functional interior space.
3D Furniture
3D Furniture has been creating 3D models since 2010, and this library of models is growing rapidly. Architects and designers create all models, so you can ensure they are of the highest quality. And, because each object is based on real-world furniture, you can be sure that it looks and feel accurate.
Their models are created using the latest in CAD software, materials and textures are carefully chosen to provide the most realistic results possible. Most objects are also priced fairly, making them an excellent choice for anyone looking for quality furniture without breaking the bank. Whether you're in the market for a simple chair or an entire furniture set, 3D Furniture has what you're looking for.
TurboSquid
If you're a professional designer or 3D artist, TurboSquid is the perfect place to find high-quality furniture models. You can download models for both commercial and residential projects, so you can create anything you need. Most of the furniture models on TurboSquid are high quality and easy to use.
There's no need to be a professional to find high-quality 3D models on TurboSquid – the site is easy to navigate, and all the files are available in various file formats, so you can experiment with different concepts without paying for conversion of your files.
Hum3D
If you're a 3D visualizer or are simply looking to add some furniture to your 3D modeling arsenal, Hum3D is the website you need to be browsing. With more than 3000 3D furniture models, Hum3D has something for everyone. Whether you're looking for a classic piece or something more contemporary, Hum3D has you covered.
Not only does Hum3D offer a wide variety of furniture models, but their standards for 3D modeling are some of the highest in the industry. Thanks to their years of experience, Hum3D has developed some very comprehensive 3D modeling processes, which make them one of the best sources of furniture models.
So whether you're a budding 3D designer or an experienced one looking to add furniture to your portfolio, Hum3D has everything you need. With so many models to choose from, there's sure to be something that fits your needs.
Whatever your furniture 3D models requirements, you can be sure that there are resources out there that will help you get what you need. Use these resources to enhance your design work, and you'll be on your way to creating amazing 3D scenes that reflect your ideas.